2015 Goals: 6-Month Evaluation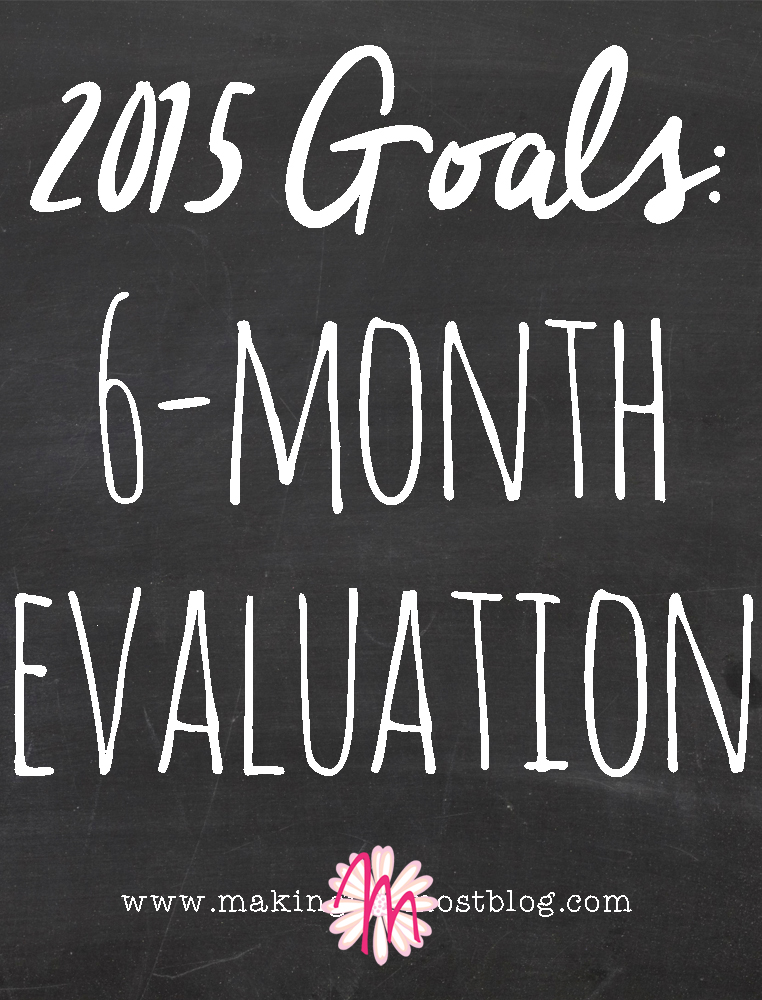 Well it's the beginning of July already.  Do you know what that means?  It's already been six months since you made your new years resolutions!  It's been 6 months since you set your goals for the new year.  Now is the time to look back on those goals, evaluate your progress, and adjust your goals as necessary.  Because your resolutions shouldn't be set in stone or you'll most often find yourself in failure at the end of the year.  Smart goals need to be evaluated and adjusted periodically, and that's what we're here to do.
Here were my goals at the beginning of the year:
Family:
Spend 2 hours per month with each child – I am actually closer to 4 hours per month with each child.  I try to spend 1 hour a week or more with each child, so this is going quite well.
Do devotions 3x per week with Prince Charming – This is not going quite so well.  We're lucky if we do one together.  We definitely need to get on the stick with this one.  I'll keep this one the same, because I feel it's something achievable that we can (and should be able to!) do by the end of the year.
Do devotions 3x per week with Rapunzel and Princess Anna – This is also going well.  We don't always get 3 in every week, but I'd say our average is 3.
Go on 6 dates with Prince Charming – Well, I can't exactly remember how many we've been on so far, but I know we've gone on at least 3 dates, so at about halfway through the year we are halfway through, so I think we're on track for the rest of the year.
Health:
Lose 25 pounds – I'm down 20, so if I get back into the swing of things here soon, 25 should be a piece of cake (pun intended)!
Career:
Train my replacement –
Write a book – Still in the research phase.  Some of this is written but I am doing a lot of reading to be able to support my ideas.  My plan is still to publish at the end of the year.
Speak at 4 churches – One down, 3 to go.  I've hit a road block that I cannot seem to pass.  Until I get more training, I think I'm stuck at 1.  Let's adjust this one to:

Speak at 1 church
Take (or begin taking) training course in order to speak at churches

Increase blog subscriptions to 1,000 (I need your help with this one!) – Okay this one is an utter failure at this point.  I'm going to change this one, but I still need your help to achieve it!  Right now I'm at 61 blog subscribers.  My goal is now to:

Increase blog subscriptions to 100 (please let me know if you need help subscribing!)
Self:
Spend 1 hour per week to myself – Okay, so my time hasn't really been designated, but I've gotten a lot of reading done, so I'm going to say this working out okay…
Read 6 books – Well, I just blew this one out of the water.  I've read 30 books so far this year!
Do devotions 5 days per week – This is another one that I don't always get every week, but on average I've been able to achieve this goal.
What about you?  What goals do you need to adjust for the rest of the year?