9 Thoughts That Can Change Your Marriage: A Book Review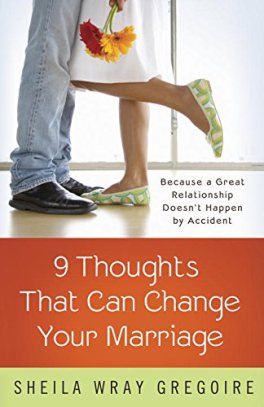 Disclosure: This post contains affiliate links, which means I receive a percentage of each sale when you make a purchase using these links; however, I fully support and recommend each of these products. You can view my full disclosure policy here.
Among the many books I've been reading this year on fear and parenting, I've also selected a handful of marriage books with the intention of improving my marriage. I'm not saying that i cheated on my husband or that he's done something terrible to me either and I'm not even saying that my marriage is bad, but I believe that any marriage can use some room for improvement on the side of both husband and wife, and this can be solved with the help of one-another or through couples therapy sessions.
One of the books I have been wanting to read is Sheila Wray Gregoire's The Good Girl's Guide to Great Sex. (Sounds risque, I know, but hey. I think most married women could use some good bedroom advice.) Before I ever had the chance to read it, though, I was given the opportunity to read her latest, 9 Thoughts That Can Change Your Marriage. I jumped at the chance.
In 9 Thoughts That Can Change Your Marriage, Sheila points out that there are many myths floating around about marriage, and she digs to the bottom of those myths using both statistics as well as God's word to disprove them. These thoughts aren't limited to basic relationship rules, though. Sheila explores areas in our relationships from sex and arguments to how we treat our husbands as people.
I really like the way Sheila is very up-front and honest when she writes. I always like to hear when the author has had the same issues I am having; it makes them sound, well, genuine. And knowledgeable. The last thing I want is someone who has the perfect marriage telling me they understand what I'm going through.
Another aspect of this book that I really enjoyed were the "Action Steps" she includes throughout: different things you can do to put your new-found knowledge into play in your marriage. This really helps the reader be able to put to good use the things they learn as they go along.
I have read marriage books that have given more in depth advice and that have provided me with more tools to improve my marriage. So although I wouldn't consider this book my number one favorite marriage book of all time, I would definitely recommend it as easy reading for the basic marriage–the kind without too many major issues. This would also be a great gift for newly married couples or those who haven't been married for a very long time. 9 Thoughts That Can Change Your Marriage might just help young couples make adjustments to their thought lives that change the entire course of a marriage.