An Event You Don't Want to Miss
Disclosure: This post contains affiliate links, which means I receive a percentage of each sale when you make a purchase using these links; however, I fully support and recommend each of these products.  You can view my full disclosure policy here.
Do you believe that motherhood is the toughest and most beautiful job in the world?
Would you like a little help minimizing the hard stuff and maximizing the wonderful stuff involved in motherhood?
Wouldn't it be wonderful if you could attend trainings by all the best authors and speakers on motherhood topics? Well…
You can!  And it's free!  And you don't even have to leave your house to participate!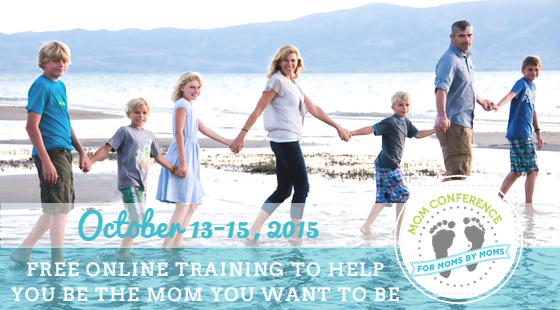 WHAT IS THE MOM CONFERENCE?
The Mom Conference is a totally FREE three-day online event that features some fantastic speakers, and YOU are invited to attend!
On October 13, 14, and 15th, join over 100,000 moms around the world, and come away armed with awesome new strategies for everything from sibling rivalry to healthy eating to finding more joy in motherhood.
You can register for FREE now by clicking here.
WHY  SHOULD YOU ATTEND?
Being a mom can be overwhelming at times, am I right?!  The Mom Conference involves 20 online classes to make motherhood more enjoyable.  20 rock star speakers (mostly moms) will be teaching you how to:
Help your children to embrace healthy foods while teaching them to cook
Get your kids to listen without yelling, nagging, or reminding (I definitely need this!)
Get in shape and eat the right foods to feel and look better (I'm all for this one too!)
Simple ways to teach your children – babies through teens – the values and character traits that will help them be successful and happy
Organize any space and keep it that way (YES!)
Actually accomplish the things you need to accomplish WHILE prioritizing motherhood
Understand what's going on in your child's brain
Find more joy in motherhood
Sounds amazing, right?
Here is a list of the incredible presenters:
Dr Laura Markham, Clinical Psychologist, bestselling author and discipline expert at Aha Parenting (Raising Siblings to be Best Friends)
Jordan Page, family finance expert and founder of funorcheapfree.com (Simple Ideas for Serious Family Fun)
Katie Kimball, expert on healthy eating for families and founder of Kitchen Stewardship (Want Responsible and Healthy Kids? Teach Them to Cook and Eat Real Food)
Jonathan Bailor, NYT #1 Bestselling author of The Calorie Myth, founder of SANESolution.com, and CEO for the wellness technology company Yopti® (How to Turbocharge Your Energy & Mood Immediately with the Right Foods)
Amy McCready, positive discipline expert and author and creator of Positive Parenting Solutions (The Positive Side of Misbehavior – Consequences That Work! )
Dr. Carrie Contey, expert on personal growth through parenting, founder of carriecontey.com (Slow Down for Way more Space and Joy in Family Life)
Rich Christensen, NYT #1 Bestselling author on business, goal-setting expert and founder of The Zigzag Principle (Raising Teenage Titans)
Richard and Linda Eyre, NYT #1 Bestselling authors who run Valuesparenting (Simple and Powerful Ways to Teach Children Values)
Holly Rigsby, fitness expert who runs http://fityummymummy.com/ (5 Key Strategies To Get an Even Better Body After Babies)
Jill Nystul, author and founder of http://www.onegoodthingbyjillee.com/ (Dealing with Depression and Other Big Bumps in the Road)
Shawni Pothier, founder of the popular mom-blog, 71 Toes (Finding More Joy in Motherhood)
John C. Maxwell, NYT #1 bestselling author, coach, and speaker who has sold more than 25 million books in fifty languages. (How to Be Present in a Distracted World)
Crystal Paine, financial and lifestyle expert and founder of Money Saving Mom (The Money-Making Mom: How Every Woman Can Earn More and Make a Difference)
Rachel Ramsey Cruze, author and financial planning expert at rachelcruze.com/, daughter of Dave Ramsey (Smart Money, Smart Kids)
Marla Cilley (a.k.a. the Fly Lady), author, home organization and cleaning mentor, founder of FlyLady.net (Are You Living in CHAOS (Can't Have Anyone Over Syndrome)?)
Christy Wright, business coach, speaker, Dave Ramsey personality, and writer at ChristyWright.com (Creating Better Life Balance)
Dr. Robert Mellilo, a clinician, professor, brain researcher and bestselling author at www.brainbalancecenters.com and Tammy Bingham, researcher, autism and developmental expert, entreprenuer (Helping Children Overcome Learning and Developmental Challenges)
April Perry, productivity expert and co-founder of Power of Moms (Five Steps to Getting More Done with Less Stress)
Saren Eyre Loosli, family organization expert and co-founder of Power of Moms (The Three Basic Systems Every Family Needs)
Desiree Ward, healthy eating expert and founder of Unconventional Kitchen (Simple Ways to Feed Your Family Healthy Foods)
And to help you avoid procrastination (we know how it goes!), if you register RIGHT NOW, you'll have access to the following FREE GIFTS as soon as your registration has been completed!
– FREE Video: Simple Tips for Teaching Children Values (by NYTimes #1 Bestselling Authors, Richard and Linda Eyre)
– FREE Program: Clutter Buster Kit from Power of Moms
– FREE Guide: 75 Quick and Healthy Snacks
Come listen ONLINE and be inspired October 13, 14 and 15th!
Register for FREE by clicking on this link today!
See you at The Mom Conference!