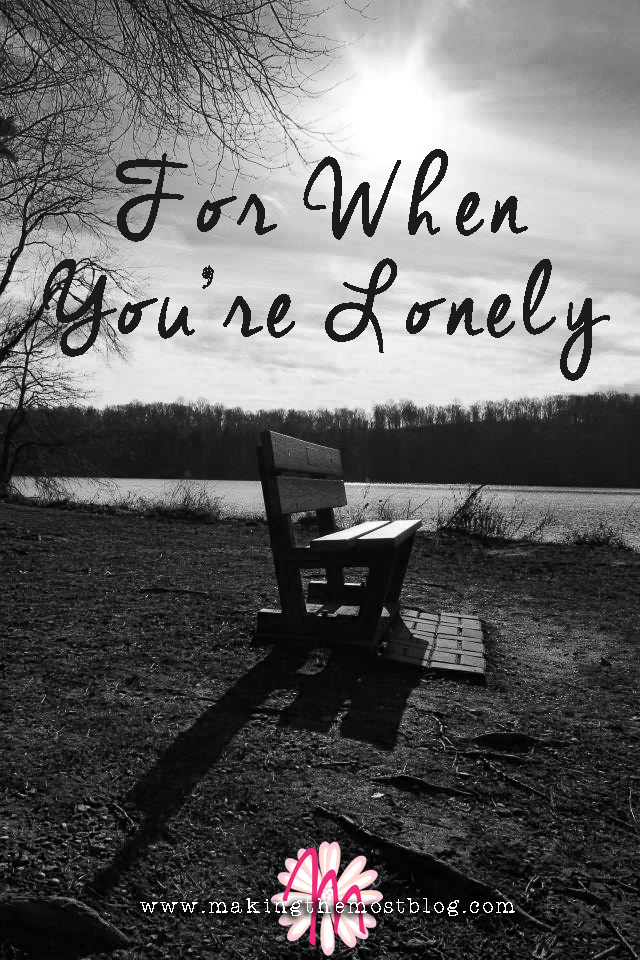 I've been struggling with loneliness lately. It's true that we all get lonely sometimes, and many of us get lonely due to relationship troubles. If this applies to you, it may be a good idea to have a look on a site like https://www.reignitethefire.net/, as they may be able to help you get through your struggles with loneliness. Or if you're the kind of person that likes more practical solutions and you're missing that physical presence of a partner in your home, some find that products such as love dolls help to fill an empty space. Some people are lonely but aren't looking for a relationship, which I totally understand. For those people, online chatting may be a great idea. It would give you somewhere easy to talk to lots of people and make some new friends. You could try somewhere like chattoday.com and find people in a similar situation to you.
However, this is not the kind of lonely you get when you're all alone. It's the lonely-when-everyone-is-around lonely that I've got. And it's not that those closest to me aren't doing enough. Because they're great. It's just that sometimes a mom needs a girl friend around. Know what I mean? To get out of the house or have someone over. And yes, some of it is my fault, because we're busy and I haven't really gone out of my way to invite people over…but that doesn't mean I'm not lonely anyway.
I just really look forward to finding a women's group or a life group or some sort of community group that I have regularly scheduled in so I have consistent support. And maybe I even just need to suck it up and call somebody even though I think I'll be bothering them. I don't know about you, but my mind always goes to, "Oh well she's always working," "She's probably at one of her kids' sporting events," "Oh she's always out with so-and-so," or "she's got enough problems of her own,"…so I probably ought to not call. But the truth is…many of my friends probably think the same things about me.
Well, regardless.
Today I got tired of being lonely and decided to figure out how I could fix it. Here's what made me feel better, and I hope it helps you too:
Even David was lonely. When you're lonely, it sometimes helps to understand that even the famed and esteemed King David was lonely. Sometimes I think we decide that the rich and famous, the "important", and the "successful" never become lonely. But that isn't true. We're all lonely at one time or another. How we deal with our loneliness is another story. So rest in the knowledge that you're not really alone in your loneliness.
"Look at me and help me! I'm all alone and in big trouble." – Psalm 25:16
"You have taken away my companions and loved ones. Darkness is my closest friend." – Psalm 88:18
"I lie awake, lonely as a solitary bird on the roof." – Psalm 102:7
No matter how alone we think we are, God is there. God is omniscient, omnipotent, and omnipresent. He is all-knowing, all-powerful, and everywhere–all at the same time. He's with us, even when we can't feel Him there. Find strength in these verses, which reassure us that God is with us no matter what. When you are in an especially lonely place, write them wherever you will see them. Write them on your mirror with dry erase marker. Write them on sticky notes and place them wherever you will see them throughout the day. Sometimes desperate times call for desperate measures, and this may be one of those times. So remind yourself often of God's love for you.
"Do not be afraid or discouraged, for the lord will personally go ahead of you. He will be with you; he will neither fail you nor abandon you." – Deuteronomy 31:8
"The lord will not abandon his people, because that would dishonor his great name. For it has pleased the lord to make you his very own people." – 1 Samuel 12:22
"Never! Can a mother forget her nursing child? Can she feel no love for the child she has borne? But even if that were possible, I would not forget you!" – Isaiah 49:15
"I knew you before I formed you in your mother's womb. Before you were born I set you apart and appointed you as my prophet to the nations." – Jeremiah 1:5 (NLT)
"I am with you always, even to the end of the age." – Matthew 28:20
"No, I will not abandon you as orphans-I will come to you." – John 14:18
"And I am convinced that nothing can ever separate us from God's love. Neither death nor life, neither angels nor demons, neither our fears for today nor our worries about tomorrow-not even the powers of hell can separate us from God's love." – Romans 8:38
"For God has said, "I will never fail you. I will never abandon you." – Hebrews 13:5
But God did create us to be relational beings. Sometimes we forget that God made us for each other. He made woman for man. He gave us family and friends, because He made us to be relational beings. It's in our very nature to want to connect with one another. The Bible reinforces this whenever it calls us to fellowship with one another, lift each other up, and encourage one another. If you are looking for relationship, find a local Christian group nearby–whether a men's group, women's group, singles' group, mom's group, etc. Some churches have life groups. Join one. Make a friend. Find an accountability partner. Visit (in)courage and sign up to be notified when their community groups are open. Find relationship. Build friendships. Communicate. But don't ignore your innate need for relationship.
"Then the LORD God said, "It is not good for the man to be alone; I will make him a helper suitable for him." – Genesis 2:18
"As iron sharpens iron, so a friend sharpens a friend." – Proverbs 27:17
"Two people are better off than one, for they can help each other succeed. If one person falls, the other can reach out and help. But someone who falls alone is in real trouble." – Ecclesiastes 4:9-10
And sometimes our loneliness stems from lack of relationship with Christ. I'm not saying this to judge anyone. I'm saying this because it's true and because I've been there. I've had more than enough opportunity to feel the loneliness that I brought upon myself just because I wanted to sin.
We all sin. But when we do it over and over and over again without honest repentance, we willingly sever our relationship with God. Sometimes we are holding our hands over our ears singing, "lalala…I can't hear you!" because we don't want the Holy Spirit to convict us. I've done that. And When we stop communicating with God, it's hard to hear God in return.
God does say that nothing can separate us from His LOVE (see above). And there is no evidence in the New Testament that says that sin separates us from God. While we may be turning a deaf ear to God, He is still here with us, and He still loves us. We just need to return to Him and rebuild that relationship with Him. How do we do that?
Pray. This is our direct line to God. This is the best way to communicate with Him. Use it.
Read His Word. This is one of many ways He communicates with us. The more you read it, the more you will feel His presence. The best way to do this is daily. Carve out the time. Make yourself an appointment if you have to. But don't pass it up.
I hope you found some hope in some of these thoughts today. I know I've been momentarily lifted out of my loneliness, and while I'm not perfect and have some changes to make, I know that when I make those changes I'll begin to feel better. And I hope you do too.
Linking up at: