God, I Don't Understand What You're Doing: 3 Ways to Let God Be Your GPS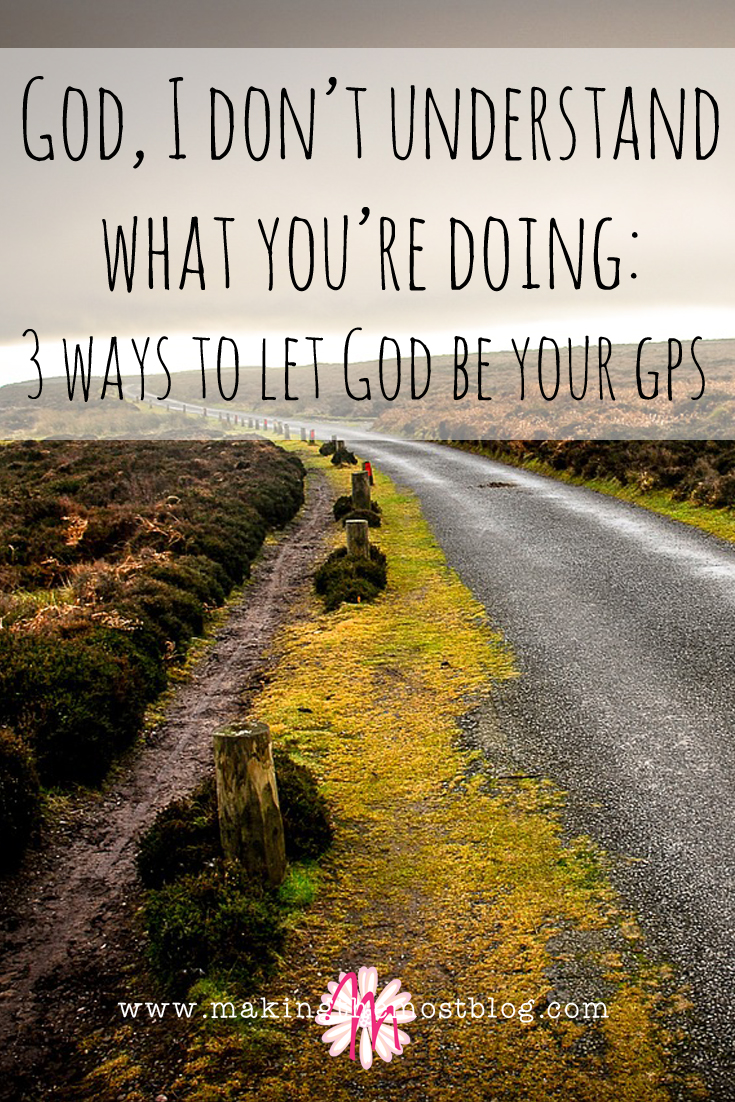 "God, I don't understand what you're doing."
In this year of faith, I find myself saying this a lot.
It's hard to understand what He's doing when it's hard to hear Him speak.  Especially when He leads you in one direction and then decides to tell you to turn where you didn't expect.  Because sometimes, you know, God does that.  He starts by saying, "Go like you're going toward California."  Then, later on, he says, "Now I want you to turn left toward Texas."  Two different locations, but you have to go like you're going West first and then turn to go South at some point.
It's frustrating to think, sometimes, that you're headed for one destination only to discover that God had a different plan all along and that you're actually headed for somewhere else entirely.  Especially when you think your dream is California.
It's hard to remember sometimes that God knows what He's doing.  Because, you know, we think we know ourselves best, we know what's best for us, and we know where we need to go.  We so love to control the situation.  It's hard to let go and just let God take the reigns.  But He is the only one who knows what's best.  After all, He knows everything about us, because He created us (Ps. 139).
So what to do you do when you don't understand what He's doing?
Just shut up.  It's great to pray, and God loves it when we communicate with Him, but communication is a two-way street.  Sometimes we need to just stop talking and listen.  In 1 Kings 19:11-12, we read: "…as Elijah stood there, the L

ORD

passed by, and a mighty windstorm hit the mountain. It was such a terrible blast that the rocks were torn loose, but the L

ORD

was not in the wind. After the wind there was an earthquake, but the L

ORD

was not in the earthquake.  And after the earthquake there was a fire, but the L

ORD

was not in the fire. And after the fire there was the sound of a gentle whisper."  Sometimes God is whispering to us, but we're talking so loud we can't hear Him.  Stop talking, and listen for Him to speak to your heart.
Find your peace.  If you've come to a split in the road, you need to decide which road to take.  If you don't know in what direction God is calling you next, examine your options.  There will be one that makes you anxious.  One that feels more logical but not quite right.  Or it might be crazy, and it really is.  There will also be one that brings you peace.  This path may sound logical, or it may sound crazy.  But if you are feeling peace with that road, that's the one you need to take.  Right now I'm really struggling with this, because I feel like I need to get a job to support my family.  But it doesn't give me peace.  What gives me peace is being here on Making the Most and working on my book.  Full time work doesn't give me peace, but a part time job (that doesn't come home with me) that allows me to be available to my kids and still work the blog and the book may be the answer.
Allow God to move.  Sometimes we need to do just what we feel God is telling us.  If we are wrong, it's okay.  God won't be upset if you hear Him wrong.  He'll just redirect you.  For instance, if I apply for some part time jobs and it's not His will, He might block my way for my own good.  Sometimes God shows up as a wall to say, "Don't go here."  Or He can move by allowing me to get a job but also providing a time for me to move away from that job.  Like when I got the job at the church.  He allowed me to get that job but also provided a time for me to move in the direction of the blog and the book.  And I truly needed these last several months to work.
It's okay to not understand what God's doing in your life.  Right now, I feel like we're living in a hurricane.  I don't understand the struggle.  I don't exactly get where God is telling me to turn.  But what we ultimately need to remember is that God has said, "For I know the plans I have for you…they are plans for good and not for disaster, to give you a future and a hope."  God never says that life will be easy or that we won't have to endure a struggle every now and then, but it's important to remember that His plans for us are in our best interests, and regardless of our circumstances, He is leading us toward His blessing.  Focus on the blessing as the end destination, and don't worry about how to get there.  Let God be your GPS, so you can say, "I don't understand what you're doing, but I know you'll get me where I need to go."