Through A Man's Eyes: A Book Review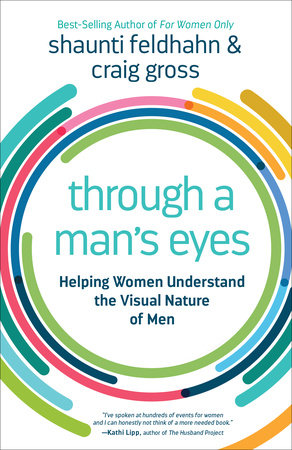 Disclosure: This post contains affiliate links, which means I receive a percentage of each sale when you make a purchase using these links; however, I fully support and recommend each of these products.  You can view my full disclosure policy here.
About two months ago, I devoured the book For Women Only: What You Need to Know About the Inner Lives of Men by Shaunti Feldhahn.  All I can say really is that it really opened my eyes to understanding why my husband does certain things and really helped me to tune in to what he experiences daily as a man.  Who knew that men and women were so different?  I mean, I knew they were different but I had no idea to what extent.
That being sent, I jumped at the chance to review Shaunti's new book Through a Man's Eyes: Helping Women Understand the Visual Nature of Men.  As I was finishing a couple of other books, it just sat around for a week or two, but as soon as I had a minute I got right down to business.  Well, actually I had more than a minute.  In fact, one thing I loved about the book was that I was able to read it within a few hours.  I wouldn't say it was short (I am a fast reader), but I found it easy to understand, and that's one thing I like about Shaunti's writing style.
I did thoroughly enjoy this book, as it expanded on one major principle that she discussed in For Women Only, and that is the fact that men are visual creatures–created that way by God and with a purpose: to strengthen the bond between a husband and wife.  It is so important for women to understand this issue.  I can truly say I never really understood exactly how certain things affected men until I read this book.  In fact, after reading this book, I want to read For Young Women Only with my step daughters so that they can understand much earlier what I never understood until now (and I am in my late twenties!).
Through a Man's Eyes also gives different ways that you can support the men in your life if they are struggling with controlling their thought lives or if you intend to help teach your son about keeping his thought life pure.  This is not something I have an issue with right now (that I'm aware of anyway), but I think it's good to have the resource around if I need it later on (or if I can share it with a friend).
One thing I will suggest is that you read For Women Only BEFORE you read this book.  For Women Only discusses some other important issues that tie into this as well, and because of that I think it's the best place to start.  Please read this book with an open mind and heart, and truly try to understand your husband or your son before you jump to conclusions.  You will never be able to truly understand your husband or son until you understand the principles in these books.  But when you do…the light bulb is brighter than ever before.