Work-in-Progress Wednesday: Blessings in Disguise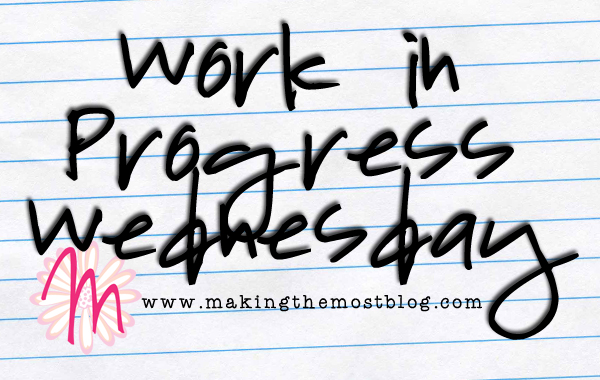 Wow, I can't tell you how much this week has been a blessing to me so far.  Just knowing that my evening schedule is completely open (well except for today) is such a relief after running around like a crazy person for the last few months.  I don't even have anxiety for the start of the basketball season, because I know I can use that time to (mostly) relax instead of having that time slot filled as a coach.
Yesterday, I was somewhat disappointed to miss Bible study (as I look forward to it every week), but Rapunzel was home sick with strep, so I had to stay home with her.  I feel really badly about that for her, but both of these things were actually a blessing to me, because I was able to get more done around the house while being available for Rapunzel when she needed me.  Thankfully I scheduled a trip to the doctor for yesterday, and we were able to catch the strep before Rapunzel was home sick too many days.  We were able to get some antibiotics in her, and I happily sent her off to school today.
I also found out yesterday that Rapunzel's grades aren't quite as good as they should be, but I am thankful I am able to catch that kind of thing online before it gets too late to intervene.  I'm also thankful to be working together with Rapunzel's teacher and some community resources to help get her back on track.
I'm also super thankful for the wonderful weather we are having right now, and I was able to take our happy little dog out for a walk today.
Oh and of course the best part of all.  I should be getting another book in the mail today!
Have you found a blessing in disguise today?  I'd love to hear what's going on in your life in the comments below.